A continuación, la lista de los nominados al Oscar de mejor actor protagonista:
Jeff Bridges
por
Corazón rebelde
George Clooney
por
Up in the Air
Colin Firth
por
Un hombre soltero
Morgan Freeman
por
Invictus
Jeremy Renner
por
En tierra hostil
Cuatro actores muy conocidos y un novato en estas lides, apenas conocido por el gran público. Se trata de
Jeremy Renner
, a quien se pudo ver también en, por ejemplo,
28 semanas después
y que interpreta a un artificiero americano en suelo iraquí al que le gusta demasiado sentir la adrenalina de su trabajo y jugarse el pellejo a cualquier hora, impidiendo que se acuerde incluso de su propia familia que le espera con incertidumbre en suelo estadounidense. No es una gran actuación, aunque destaca, pero la película
En tierra hostil
ha sido la gran sorpresa de la temporada.
Vamos con los actores conocidos:
Jeff Bridges
acaricia el premio dado que es quien tiene más papeletas para obtenerlo por su papel de un cantante de country borrachuzo en horas bajas que lo único que intenta es ir sobreviviendo como pueda, casi siempre malamente, al día a día. Espectacular interpretación que no defrauda ya que estamos acostumbrados a verle imponiéndose en la pantalla y robando planos a cualquiera que se le ponga por delante.
Morgan Freeman
es Nelson Mandela en
Invictus
de
Clint Eastwood
. Si alguien tenía que hacer de Nelson Mandela, ese era
Morgan Freeman
, al igual que también es el candidato perfecto para ser Kofi Annan (ex secretario general de las Naciones Unidas), en caso de que hagan una película donde él aparezca. En
Invictus
ves cómo anda, cómo mira y cómo habla, y lo hace de tal forma que es perfectamente creíble, te encuentras cara a cara con Mandela. Este actor es, sin duda, uno de los grandes.
En mi opinión, alguien que puede hacerle algo de sombra a
Jeff Bridges
en esta lista (aunque no lo va a conseguir) es
Colin Firth
, que tiene el papel de su vida en
Un hombre soltero
, lleno de matices y expresiones, alguien que hace ver al espectador lo aburrido y desencantado que está de la vida, del momento por el que está pasando... Obtuvo la
Copa Volpi
en el Festival de Venecia y es una actuación para el recuerdo, que hace ganar muchos puntos a la historia de la película, y a la película en sí.
Para acabar, nos encontramos con
George Clooney
, que al igual que sus compañeras de reparto
Vera Farmiga
y
Anna Kendrick
en
Up in the air
, está correcto con unos cuantos momentos a tener en cuenta, en una película amable y con muy buenos diálogos y situaciones... Pero debo decir que creo que
Clooney
ha tenido mejores actuaciones que esta (y no digo que sea mala eh, ni mucho menos).
Imágenes (haz clic sobre ellas si quieres ampliarlas):
Jeff Bridges (Corazón rebelde)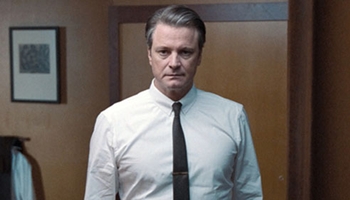 Colin Firth (Un hombre soltero)
George Clooney (Up in the air)
Morgan Freeman (Invictus)
Jeremy Renner (En tierra hostil)