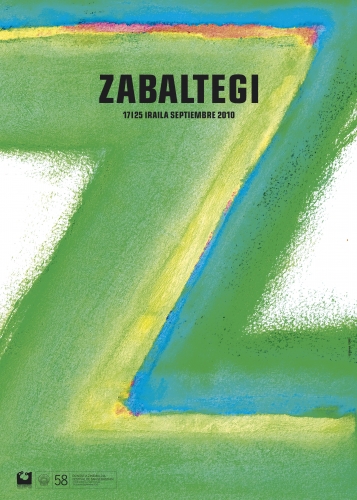 Zabaltegi: Zona abierta
. Tras la sección a competición, es la otra estrella del Zinemaldia. Un espacio abierto en el que se pueden ver películas de nuevos directores con sus primeras o segundas películas, nuevas y variadas cinematografías a descubrir, esperando ser la sorpresa o las sorpresas que uno siempre se encuentra aquí.
Además, Zabaltegi abarca también lo que son las
Perlas
, un grupo de películas que han sido premiadas en otros festivales internacionales o que han tenido la suficiente repercusión como para considerarse interesantes de exhibir aquí. Son pues, estas perlas, uno de los grandes reclamos del Festival para el gran público.
Zabaltegi será inaugurado con
Poetry
, de
Lee Changdong
(Corea del Sur), que fue premiada con el mejor guión en Cannes, siendo una muestra más de que el cine asiático sin ninguna duda está bien representado. La clausura de Zabaltegi será a cargo de
Barney's version
de
Richard J. Lewis
(Canadá-Italia), película que estos días se presenta en el Festival de Venecia y que ya sólo con su reparto (
Dustin Hoffman
,
Paul Giamatti
,
Rosamund Pike
, estando previsto que estos dos últimos visiten la ciudad) es muy atractiva.

Póster de

Poetry

[Clic para ampliar]
Otras películas que sin duda generarán mucho interés serán, por ejemplo, la ganadora del Oso de Oro de la Berlinale,
Miel
(
Semih Kaplanoglu
, Turquía-Alemania), así como
Carancho
de
Pablo Trapero
(con
Ricardo Darín
) que fue presentada en Cannes en la sección
Un certain regard

.
También
Cirkus Columbia
, el último trabajo de
Danis Tanovic
(director de la aclamada
En tierra de nadie
), o la ganadora del premio del público en Sundance,
Happythankyoumoreplease
de
Josh Radnor
(EEUU) y también siguiendo con Sundance, la que promete ser, o al menos eso parece, una de las sensaciones de la temporada,
Buried
de
Rodrigo Cortés
con
Ryan Reynolds
.
Póster de

Happythankyoumoreplease


[Clic para ampliar]
La lista completa de las Perlas es la siguiente (y que además competirán por el premio del público):
-

Poetry

(Lee Changdong, Corea del Sur)
-

Barney's version

(Richard J. Lewis, Canadá-Italia)
-

Bal / Honey

(Semih Kaplanoglu, Turquía-Alemania)
-

Buried

(Rodrigo Cortés, España)
-

Carancho

(Pablo Trapero, Argentina-Chile-Francia-Corea del Sur)
-

Cirkus Columbia

(Danis Tanovic, Francia–Bosnia y Herzegovina–Bélgica–Reino Unido–Alemania–Eslovenia)
-

Exit through the gift shop

(Banksy, EEUU-Reino Unido)
-

Happythankyoumoreplease

(Josh Radnor, EEUU)
-

How much does your building weigh, Mr. Foster?

(Norberto López Amado, Carlos Carcas, Reino Unido-España)
-

The Oath

(Laura Poitras, EEUU)
-

Le quattro volte

(Michelangelo Frammartino, Italia)
-

Tuan Yuan / Apart together

(Wang Quan An, China)
Barney's version [Clic para ampliar]
Aparte de las películas de los nuevos directores (cuya lista completa puedes consultar
aquí
) y de las
Perlas
, Zabaltegi tendrá tres sesiones especiales, siendo un guiño a la retrospectiva temática de este año dedicado al auge de los documentales de los últimos años, entre las que se encuentra
Guest
de
José Luis Guerín
(director de
En construcción
, que obtuvo el premio especial del Jurado en el Zinemaldia de 2001),
La noche que no acaba
, de
Isaki Lacuesta
(quien recibió en Donosti el premio FIPRESCI el pasado año por su película
Los condenados
) y por último
Yves Saint-Laurent, l'amour fou
de
Pierre Thoretton
donde Pierre Bergé cuenta historias acerca del fallecido modisto.
Trailer de Poetry:
Trailer de Barney's version:
Trailer de Buried (Enterrado):
[Toda la información en la web del Festival de Cine de San Sebastián]