Las retrospectivas del Zinemaldia también son una marca importante del certamen. Este año el público está de enhorabuena ya que vuelven a ser tres (los dos años anteriores fueron únicamente dos, debido a la crisis económica y para intentar ajustar gastos).
La primera de las retrospectivas es la dedicada a un director clásico, con la que se suele pretender dar a conocer al gran público la obra de alguien cuyo nombre, por lo general, no está en boca de cualquiera. este año se trata de Georges Franju, cineasta de alta importancia en la cultura francesa y del que este año 2012 se cumplen cien años de su nacimiento.
GEORGES FRANJU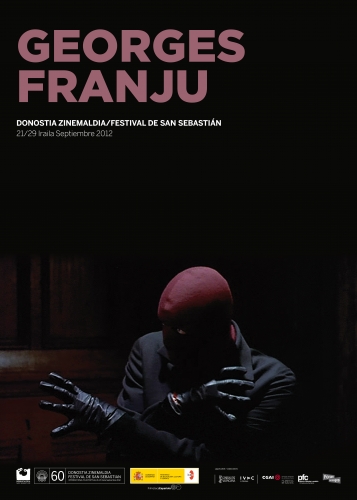 Según el texto indicado por la organización del Zinemaldi: Georges Franju (12/04/1912 - 05/11/1987) fue una figura de verdadero peso en la cultura cinematográfica francesa. En 1936 funda, junto a Henri Langlois, la Cinémathèque Française. Su carrera como director se inicia en 1949 en el campo del documental, al que aporta algunos títulos que han pasado a la historia del género. Trabajos suyos como
Le Sang des bêtes, Hôtel des Invalides o En passant par la Lorraine
muestran ya su especial talento para filmar la realidad desde ángulos inesperados, un rasgo que hace que en estos films testimoniales aflore siempre una sensibilidad cercana al surrealismo y el expresionismo.
La obsesión de Franju por buscar la inefable poesía de las cosas a través de su cámara pervivirá cuando dé el salto al largometraje de ficción con La Tête contre les murs (La cabeza contra la pared,1958), a la que sigue Les Yeux sans visage (Ojos sin rostro, 1959), considerada una obra maestra del cine fantástico. Su fascinación por la cultura popular, por el folletín y los seriales del cine mudo, es bien palpable en cintas como Pleins feux sur l'assassin (1960), Judex (1963) o Nuits rouges (1974), auténticos ejercicios de estilo que tratan de recuperar la inocencia de las antiguas narraciones de intriga y misterio en una clara reivindicación del cine como placer visual y narrativo. Pero Franju también destacó por su capacidad para adaptar clásicas obras literarias y conferirles siempre su sello personal: François Mauriac (Thérèse Desqueyroux / Relato íntimo, 1962), Émile Zola (La Faute de l'Abbé Mouret / El pecado del padre Mouret, 1970), Joseph Conrad (La Ligne d'ombre, 1973) o Jean Cocteau (Thomas l'imposteur, 1964). Aunque hoy injustamente olvidada, la obra de Franju gozó en su momento de gran prestigio crítico y le valió la admiración de los jóvenes cineastas de la nouvelle vague.
Vídeo promocional de la retrospectiva:
La segunda de las retrospectivas es una retrospectiva temática. Si el año pasado se dedicó el ciclo al nuevo cine negro norteamericano (de 1990 a 2010), esta vez le toca el turno a la comedia gamberra americana de los últimos treinta años...
VERY FUNNY THINGS: NUEVA COMEDIA AMERICANA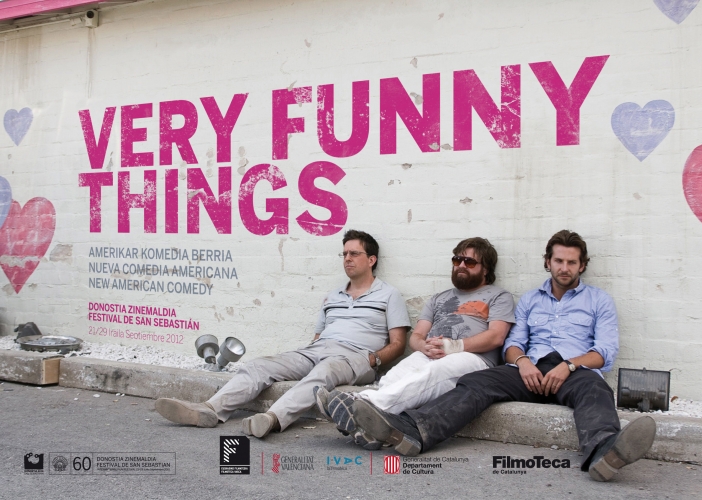 El título del ciclo es una clara referencia a la película Very bad things (Peter Berg), que fue presentada a competición en 1998. El texto explicativo que la organización ha redactado sobre el ciclo es el siguiente (donde se mencionan títulos que, como bien se dice, son ya auténticos clásicos de culto, a pesar de que algunos de ellos sean relativamente recientes, además de nombres de directores que quizá sorprenda verlos en un ciclo así):
El Festival de San Sebastián dedicará este año a las nuevas tendencias del cine de humor estadounidense. La comedia, un género que ya tenía una larguísima tradición en Hollywood, se ha visto revitalizada en las dos últimas décadas gracias a una mirada contemporánea en la que hay lugar para la irreverencia, la incorrección política y la sátira social. Una nueva generación de directores, guionistas, actores y cómicos se han convertido en el actual referente de este género, un estilo que ya está creando escuela en todo al mundo: Peter Farrelly, Judd Apatow, Todd Phillips, Jared Hess, Ben Stiller, Will Ferrell, Seth Rogen, Jason Segel, Tina Fey, Kristen Wiig, Mike Judge, Trey Parker, Matt Stone… Todos ellos han ampliado las posibilidades del cine de humor a través de una "comedia de autor" que se ha ganado a partes iguales el aprecio del público y el respeto de la crítica.
El ciclo presentará treinta títulos que resumen la evolución de esta nueva comedia a partir de algunas cintas pioneras de la década de los 80, auténticas películas de culto que sentaron las bases de la llamada gross-out comedy, con su sentido del humor desinhibido e iconoclasta y que convirtieron en mitos a actores como John Belushi o Bill Murray: Animal House (Desmadre a la americana, 1978), Meatballs (Los incorregibles albóndigas, 1979), Caddyshack (El club de los chalados, 1980), Porky's (1982)… Películas producidas en las décadas siguientes seguirán insistiendo en la reivindicación del inadaptado social como personaje emblemático que permite lanzar una peculiar mirada sobre la sociedad americana contemporánea a través del trazo caricaturesco: Dude, Where's My Car? (Colega, ¿dónde está mi coche?, 2000), Zoolander (Zoolander (Un descerebrado de moda), 2001), Napoleon Dynamite (2004), The 40 Year Old Virgin (Virgen a los 40, 2005), The Hangover (Resacón en las Vegas, 2009)… También se incluirán significativos trabajos de algunos de los más destacados cineastas estadounidenses actuales, los autores que, de un modo u otro, se han acercado a la comedia: Richard Linklater (Dazed and Confused / Movida del 76, 1993), Paul Thomas Anderson (Punch-Drunk Love / Embriagado de amor, 2002), Wes Anderson (Rushmore / Academia Rushmore, 1998), David Gordon Green (Pineapple Express / Superfumados, 2008) o Gregg Araki (Smiley Face, 2007).
Vídeo promocional:
Y por último, la tercera retrospectiva, también temática. Quizá una forma de autohomenaje por parte del Zinemaldia, pero por otra parte, una buena idea. Lo de autohomenaje viene a cuento de que en el ciclo se proyectan películas que gracias a una idea del Festival de Cine, se ha seguido llevando a cabo y se han podido realizar largometrajes gracias a ella.
EN CONSTRUCCIÓN. 10 AÑOS CON EL CINE LATINOAMERICANO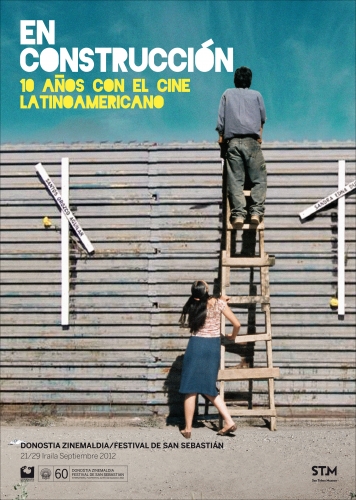 "La 60 edición del Festival de San Sebastián homenajea el décimo aniversario de su sección Cine en Construcción, que recupera algunas de las películas que han sido presentadas a lo largo de estos años.
Creada en el año 2002 gracias a la colaboración conjunta del Festival de San Sebastián y los Rencontres Cinémas d'Amérique Latine de Toulouse, la sección Cine en Construcción nació con la intención de apoyar la producción de cine latinoamericano mediante ayudas para la finalización de películas en fase de postproducción. Una serie de títulos procedentes de países latinoamericanos seleccionados por ambos festivales son presentados ante un grupo de profesionales para que puedan optar a una serie de ayudas en la postproducción.
Desde su primera edición, Cine en Construcción ha permitido la finalización de destacados títulos del cine latinoamericano que posteriormente han sido presentados en los más importantes festivales internacionales y han obtenido galardones en muchos de ellos. Algunos de los más reputados cineastas latinoamericanos actuales han participado en esta sección: Ana Katz, Celina Murga, Tristán Bauer, Federico Veiroj, Julio Hernández Cordón, Rigoberto Perezcano, Jorge Durán, Ciro Guerra o Sebastián Silva, entre muchos otros.
En Construcción. Diez años con el cine latinoamericano recupera dieciocho de los más significativos títulos de entre todos los que pasaron por San Sebastián a lo largo de estos diez años. Son dieciocho películas que pudieron terminarse gracias a la iniciativa de Cine en Construcción y fueron después programadas y galardonadas en festivales internacionales de todo el mundo."

Vídeo promocional: