Una maleta. Invitación al viaje. En un festival de Cine se viaja mucho. No sólo en referencia a quienes llegan al festival, sino que también a partir de las películas que se ven. Cada una de las películas que se ofrecen suponen un viaje diferente, único. Es por ello por lo que este año el cartel de la Sección Oficial del 59 Festival Internacional de Cine de San Sebastián - Zinemaldia 2011, que se celebrará del 16 al 24 de Septiembre, es eso: una maleta. El cartel ha sido diseñado por Yoana Figueras y ha sido la ganadora de un concurso al que se presentaron sesenta propuestas. Los últimos años no había tal concurso y el encargado de realizar los carteles era Oscar Mariné (quien por cierto ha sido quien ha diseñado las estrellas del nuevo Paseo de la Fama de Madrid).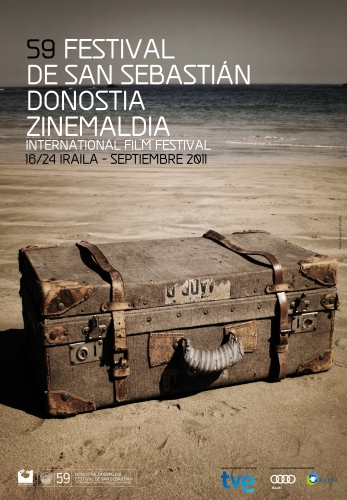 Nuevas y diferentes visiones de un mismo lugar. Zabaltegi y cada una de sus letras deslizándose... Esta sección, como siempre, será el segundo pilar importante del Zinemaldia. Aquí se podrán ver las famosas Perlas (películas premiadas en otros festivales o bien películas que, sin ser premiadas, han suscitado mucho interés entre público y medios), así como también primeras y segundas películas de Nuevos Directores (siendo esta subsección otra de las más importantes del Zinemaldi, pudiendo comprobarse la nueva hornada de creadores que llegan al panorama cinematográfico), y por último los Especiales, sesiones donde se podrán ver películas realizadas o bien por miembros del jurado o por directores a los que se les ha dedicado alguna retrospectiva...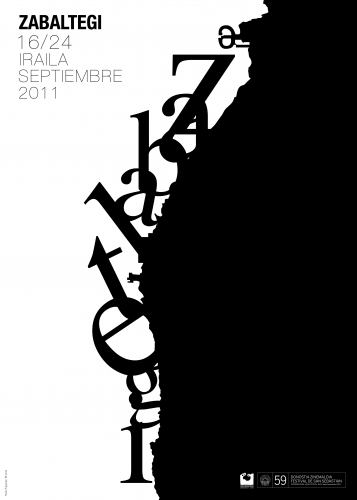 Un amanecer proyectando diferentes, hermosos y potentes colores sobre un rostro. Horizontes Latinos. El tercer pilar del Zinemaldia. En esta sección se verán diferentes producciones latinoamericanas que reflejarán historias de un mundo que como bien dice su director (José Luis Rebordinos, quien se estrena este año en el cargo tras el relevo de Mikel Olaciregui), cada vez va surgiendo ante nosotros con más fuerza.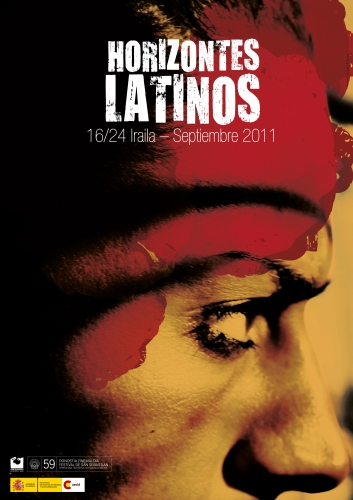 Por último, las retrospectivas. Este año vuelven a ser tres (los dos últimos años, debido a los recortes presupuestarios tuvieron que verse reducidas a dos) y como siempre, volverán a ser altamente interesantes para cualquier mente cinéfilamente inquieta.
American Way of Death: Cine negro americano 1990-2010. Su título lo dice todo. En esta retrospectiva se mostrarán los títulos más interesantes o importantes del género negro norteamericano de los últimos veinte años. Se podrán ver obras de directores tan importantes como Quentin Tarantino, Michael Mann, Abel Ferrara, los hermanos Coen, Clint Eastwood, Spike Lee, David Lynch, Martin Scorsese o David Fincher, con títulos magníficos y casi imprescindibles como Reservoir Dogs(1992), Wild at Heart (Corazón salvaje, 1990) Miller's Crossing (Muerte entre las flores, 1990; Concha de Plata al Mejor Director en el Festival de San Sebastián), Seven (1995),Fargo (1996), Collateral (2004) o Zodiac (2007). Pero también habrá opción de recordar otras películas no tan conocidas de otros directores, como Red Rock West (1993) de John Dahl, Suture (1993) de Scott McGehee y David Siegel,Menace II Society (1993) de los hermanos Hughes, Little Odessa (Cuestión de sangre, 1994) de James Gray o Hard Eight (Sidney, 1996) de Paul Thomas Anderson.

Cartel basado en Fargo, de los hermanos Coen: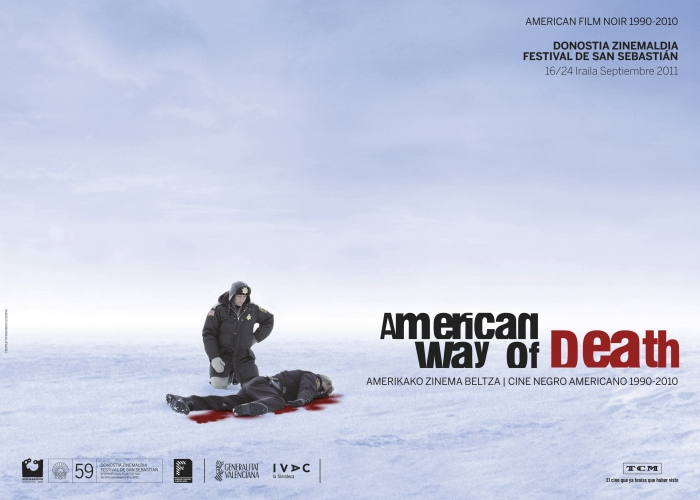 Jacques Demy. Cineasta inclasificable, comenzó siendo uno de los componentes de la nouvelle vague (nueva ola)francesa, pero pronto se decantó por hacer un cine más personal, más propio. Es por ello por lo que sus películas revisionaron el cine musical de una forma muy peculiar, y con su exquisito sentido de la dirección artística operó siempre a espaldas de cualquier moda o tendencia del cine del momento. Se podrá ver sufilmografía completa, incluyendo, cómo no, su película más conocida por la que obtuvo en 1964 a Palma de Oro en el Festival de Cannes y una nominación al Oscar a la Mejor Película Extranjera, Les parapluies de Cherbourg (Los paraguas de Cherburgo). En esta película, por cierto, se basa el cartel de la retrospectiva.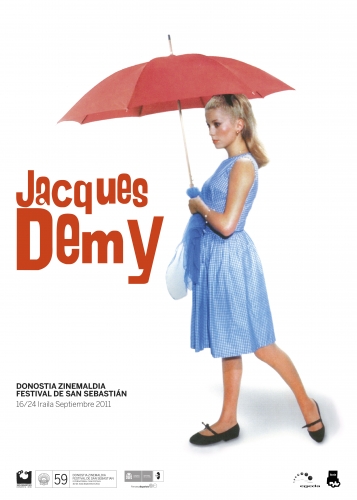 Sombras digitales. Cine chino de última generación. El formato digital da lugar a que muchos cineastas se arriesguen y realicen todo tipo de películas a muy bajo coste. Esto los chinos lo han sabido recoger muy bien y se han lanzado en la última época a ello. Buena cuenta de todo esto da esta retrospectiva, donde se verán dieciocho largometrajes digitales chinos de la última década (2000-2010) en los que se podrá ver cómo la sociedad china va cambiando con el paso del tiempo, ofreciendo historias que, según la organización, van más allá de la nostalgia o de la protesta política y social. El cartel está basado en el film Oxhide II (Jiayin Liu, 2009)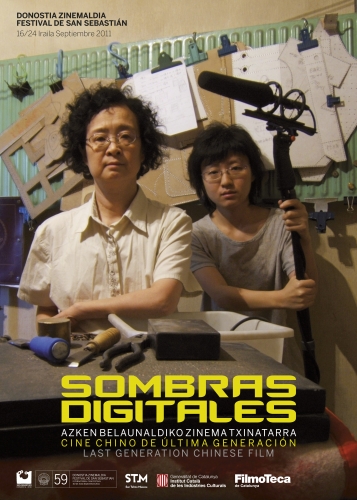 Aparte de todas estas importantes secciones y de las habituales como Made in Spain, Cine en construcción, Zinemira (Cine Vasco), Cine en Movimiento y Escuelas de Cine, hay este año dos grandes novedades que pretenden conjugar el cine con el placer y la diversión:
Cine y Gastronomía, con cenas temáticas donde se proyectarán películas relacionadas con las películas gastronómicas programadas y donde se intentarán captar los sabores (y los sonidos ya que habrá música también en estas cenas/sesiones) de lugares como Euskadi, Galicia, Extremadura, Etiopía o Perú.
Sesiones de medianoche. Con la idea de recuperar el estilo del cine de barrio y las sesiones dobles que existían hace años y llamar la atención de un público má sjuvenil y quizá más gamberro, se han concebido estas sesiones donde se emitirán películas de género (terror, comedia, erótico, etc...). Según informa la organización, la inauguración de esta sección estará dedicada a los pinku-eiga (películas eróticas) de la productora japonesa Nikkatsu. A partir de las 12 de la noche y en sesión continua se programará el documental Pinku Eiga. Inside the Pleasure Dome of Japanese Erotic Cinema, de Yves Montmayeur (Francia), seguido de la proyección de dos auténticos pinku-eiga.
Como se ve, el Zinemaldia no sólo mantiene la esencia de lo que viene siendo su fórmula durante los últimos años, sino que además evoluciona e introduce nuevas secciones que preven alcanzar diferentes tipos de público que a veces, se dice, no llega de forma usual. Lo dicho: del 16 al 24 de Septiembre tocará disfrutar de muchas formas de ver y de disfrutar el Cine.
[Toda la información en la web del Festival Internacional de Cine de San Sebastián]